Book now to secure your success coaching session
for January 2018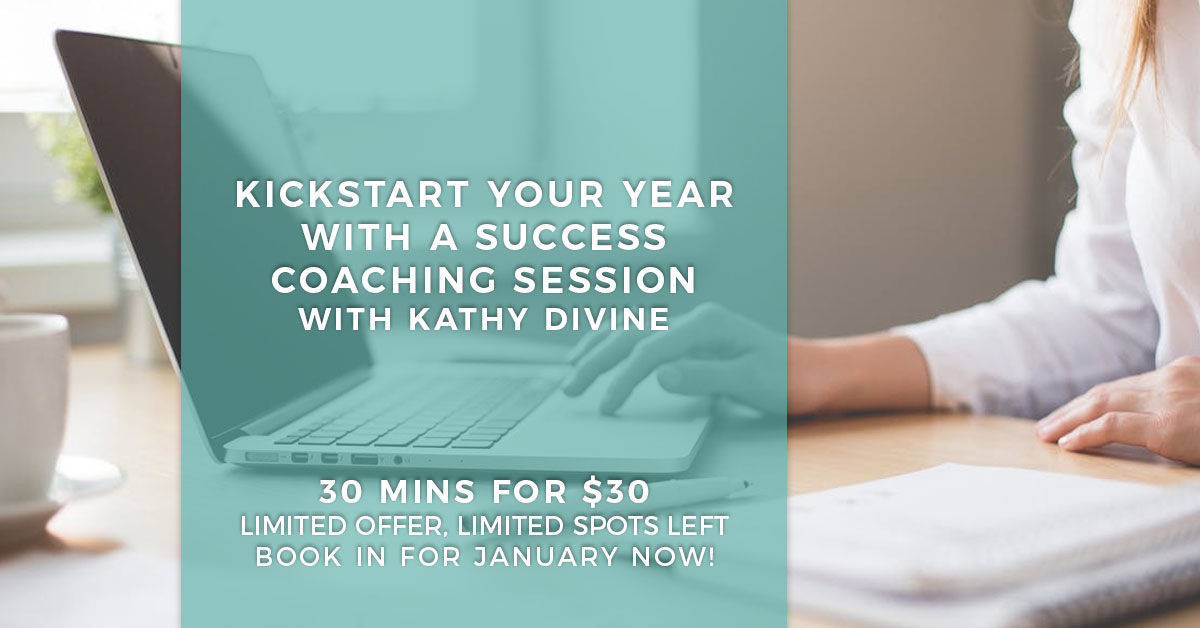 ---
Press the 'buy now' button to invest in a powerful coaching session with Kathy Divine.
Buy Now
Book a success coaching session if you want to:
* Define and achieve your goals in 2018
* Super charge your motivation and inspiration for whatever you want to achieve next year
* Experience a no nonsense, straight-talking yet super supportive coaching session that will
give you the push and encouragement you need to feel fantastic about your coming year!
=> After paying for your session, email kathy@kathydivine.com with three preferred dates
and times for your session. You will get a reply within 24 hours with a confirmation of
the date and time of your session.
=> Limited spots. This offer is strictly limited to the first 20 people.
=> All sessions are conducted via either phone or Skype.
Testimonials
"You are wonderful Kathy Divine, anyone lucky enough to work with you is very blessed. The love, encouragement and inspiration you have given me is beyond words. If anyone is thinking of booking a consultation with Kathy do not hesitate, just get on it, she's got all the good info you need and she knows how to get you on track."
***
"Kathy is one of a kind. She has a genuine passion to unite people and encourage them to be the best version of themselves. Her unwavering support for women and the vegan community is truly admirable and something I've witnessed online for over a year. I was excited to meet Kathy for the first time at World Vegan Melbourne and it was like being re-united with an old friend. That's the effect Kathy has on people. She gave me an impromptu 10 min coaching session during our time together which left me feeling energised and excited to elevate my business. If you're looking for someone that's in your corner for all the right reasons then Kathy has got your back."
— Kelly Myers, marketing consultant
***
"I came to ask Kathy Divine advice on how to solve my problems and through her vast knowledge she has helped me in many ways. My life really needed to change and I took her advice and made major changes. The outcome was the perfect solution for me. I'm so happy and appreciate Kathy's kindness and love. Thank you so much for helping me Kathy. I'm positive you can give very good advice to others as well. "
 ***
"Kathy isn't just a mentor. She's a beacon of light in the turbulent sea of book-writing and self-publishing. She knows all the nuances of the writing/ publishing process, which I sorely needed as a first time author. She knows what works, and most importantly, what doesn't work. Even more than this, Kathy understands the mental obstacles that first time authors often face. Her kind, yet to-the-point insights have been invaluable during my rough patches. Kathy's mentorship reflects integrity, generosity, compassion, and leadership. I would recommend Kathy to any aspiring author who wants to get their message out to the world, the right way."
Buy Now
---